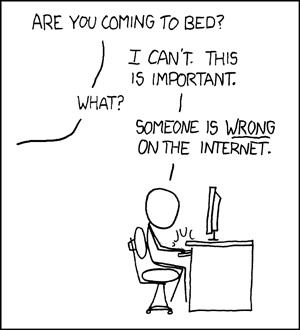 Self-​​proclaimed apos­tate and per­sonal trainer Mike D cri­tiques the argu­ments Dr. William Lane Craig used in a debate with noted jour­nal­ist Christo­pher Hitchens not long ago. How­ever Mike D's blog reflects igno­rance of the depth of Craig's schol­arly research in sev­eral areas and a gen­eral atti­tude of dog­ma­tism. Today I am inter­ested in cor­rect­ing this par­tic­u­lar post's pos­ture toward Craig's Kalam Cos­mo­log­i­cal Argument.
Craig's for­mu­la­tion of the cos­mo­log­i­cal argu­ment goes like this:

1. Every­thing that begins to exist has a cause.
2. The uni­verse began to exist.
3. There­fore the uni­verse has a cause.
Mike D's first objec­tion is a rebut­ting defeater of the sec­ond premise, his sec­ond objec­tion is sim­ply a mis­un­der­stand­ing of the con­clu­sion, and his third objec­tion is a very unclear rebut­ting defeater of the first premise. He never dis­putes the valid­ity of the logic.
He first argues that the uni­verse could exist in "a state in which time [func­tions] non-​​linearly as another dimen­sion of space, negat­ing… prob­lems with infi­nite regres­sions of time". Some­thing like Mike D's posi­tion was orig­i­nally advanced by John McTag­gart Ellis McTag­gart (yes, that's his real name) in his famous 1908 arti­cle in Mind, "The Unre­al­ity of Time", as "B-​​series" time. This view of time would see any begin­ning of the uni­verse like the begin­ning of a yard stick, whose length is tense­less. Most laypeo­ple how­ever, are unknow­ing believ­ers in what McTag­gart called "A-​​series" time, and pas­sively inter­pret their expe­ri­ence of tensed time as real.
Craig is aware that his view pre­sup­poses A-​​series time. In fact, he has done exten­sive schol­arly work, much of which is avail­able online, in under­cut­ting the B-​​series view and advanc­ing an A-​​series view (includ­ing a full book-​​length treat­ment of each). The qual­ity of his research is reflected by the fact that he was invited to pre­side over the Phi­los­o­phy of Time Soci­ety from 1999–2006. To sim­ply point out the well-​​known fact that there is a view of time which would pre­clude Craig's argu­ment, and then declare Craig wrong with­out any fur­ther com­ment on the mat­ter, is both igno­rant and dog­matic [1][2].
Mr. D's sec­ond "objec­tion" is sim­ply a mis­un­der­stand­ing of what it is that the argu­ment is try­ing to prove. Accord­ing to Mike D, the "sec­ond prob­lem… is that [Craig's] argu­ment fails to answer why, even if a first cause is nec­es­sary, it must be 'God'" [3]. Here Mr. D mis­un­der­stands the claim made by the argu­ment, which is only that the uni­verse has a cause, not that the cause is God. Inci­den­tally, Craig is always pre­pared with other argu­ments on hand that build on his kalam by attempt­ing to recover from it cer­tain attrib­utes that must be true of a uni­ver­sal cause [4].
Why didn't Craig go into finer tech­ni­cal detail about these issues? Because Hitchens has no for­mal train­ing in either sci­ence or phi­los­o­phy, and demon­strated a pro­found igno­rance of the tech­ni­cal issues that have bear­ing on the dis­cus­sion. In fact, Craig is often frus­trated at just how shal­low his debates are, because his inter­locu­tors rarely bring up any meaty objec­tions at all (as was most cer­tainly the case with Hitchens, whom Craig "spanked… like a fool­ish child", accord­ing to the infa­mous "Com­mon Sense Athe­ism" post on the debate).
Mr. D's final objec­tion is unclear, but I think that it may be under­stood as a rebut­ting defeater of the first premise (though parts of it seem to assume he is right about the sec­ond premise being false). In it he ini­tially asserts that causal­ity requires space and lin­ear time. Yet he pro­vides no argu­ment what­so­ever for his meta­phys­i­cal dogma. Are we to take it on faith?
Next, while his first objec­tion defended a view of time which is non-​​linear, this final objec­tion claims that 'lin­ear' time is needed for causal­ity to occur. Are we to take it then that Mr. D denies the real­ity of causal­ity entirely?
After this he says that if the uni­verse were caused, we would all actu­ally be igno­rant of how causal­ity works out­side of the uni­verse. But if that's the case, how does 'he' know that causal­ity requires things pre­cluded by Craig's view?
Mr. D says it's a "fal­lacy then to talk about a time 'before' the uni­verse", but Craig does no such thing. His view is that "with­out" (not "before") the uni­verse, God is time­less. And on this mat­ter too, Craig has writ­ten exten­sively at the schol­arly level, includ­ing a book-​​length treat­ment and dozens of arti­cles, many of which are avail­able online. Should Mr. D ever read any of them, he may remain in dis­agree­ment, but his post reflects only igno­rance of Craig's research.
An hon­est piece describ­ing the thoughts of an arm­chair philoso­pher in process would be one thing, but Mr. D's post is packed with dog­matic rhetoric and scathing dis­missals of a man whose peers regard him as eas­ily falling within the top 1 per­cent of prac­tic­ing philoso­phers in the West­ern world.